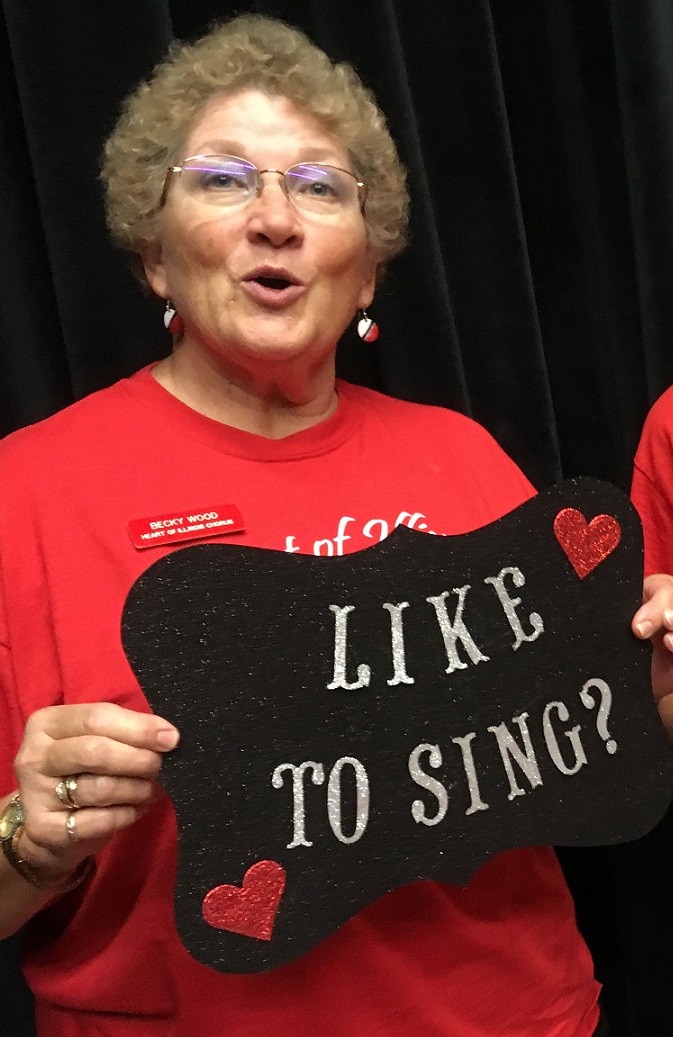 The Heart of Illinois Chorus is more than just an acappella ensemble, it is a family. We love getting together each week, and sharing friendships as well as great music. If you like to sing, you're invited to visit Heart of Illinois Chorus and discover your INNER DIVA!  Sitting in on one of our rehearsals is the perfect way to find out more about us, and what we can do for you! You'll have the opportunity to hear us perform four-part harmony barbershop-style and you'll be invited to join us on the risers to experience the music, friendship and fun for which Heart of Illinois Chorus is known!
SINCE THE HEARTS ARE REHEARSING VIRTUALLY UNTIL FURTHER NOTICE, PLEASE CLICK HERE TO SEE THE VIRTUAL AUDITION PROCESS
wHEN?
Guests are welcome at any Heart of Illinois Chorus rehearsal, Tuesdays at 6:30 pm.  Every night is Guest Night!
WHERE?
Performing Arts Center (Studio Theater-room 215), Illinois Central College, #1 College Dr., East Peoria, IL 61635-0002  
VIA ZOOM!! MESSAGE US FOR THE LINK!
WHY?
There are so many reasons to join! Spend time with a wonderful group of women. Learn some amazing songs. Experience opportunities for vocal music improvement and personal growth...and get a chance to perform and strut your stuff!
WHO?
You!!! Come and discover the joy of singing 4-part harmony, barbershop style! 
Recent news
The Hearts are finally back to in-person rehearsals after a crazy year and a half!!! We're SO happy we can... more
October 22, 2020 - 3:58pm
Nan is a biker!! Get to know her!!
October 22, 2020 - 3:57pm
Let me introduce you to Alyssa, a lead in our chorus...