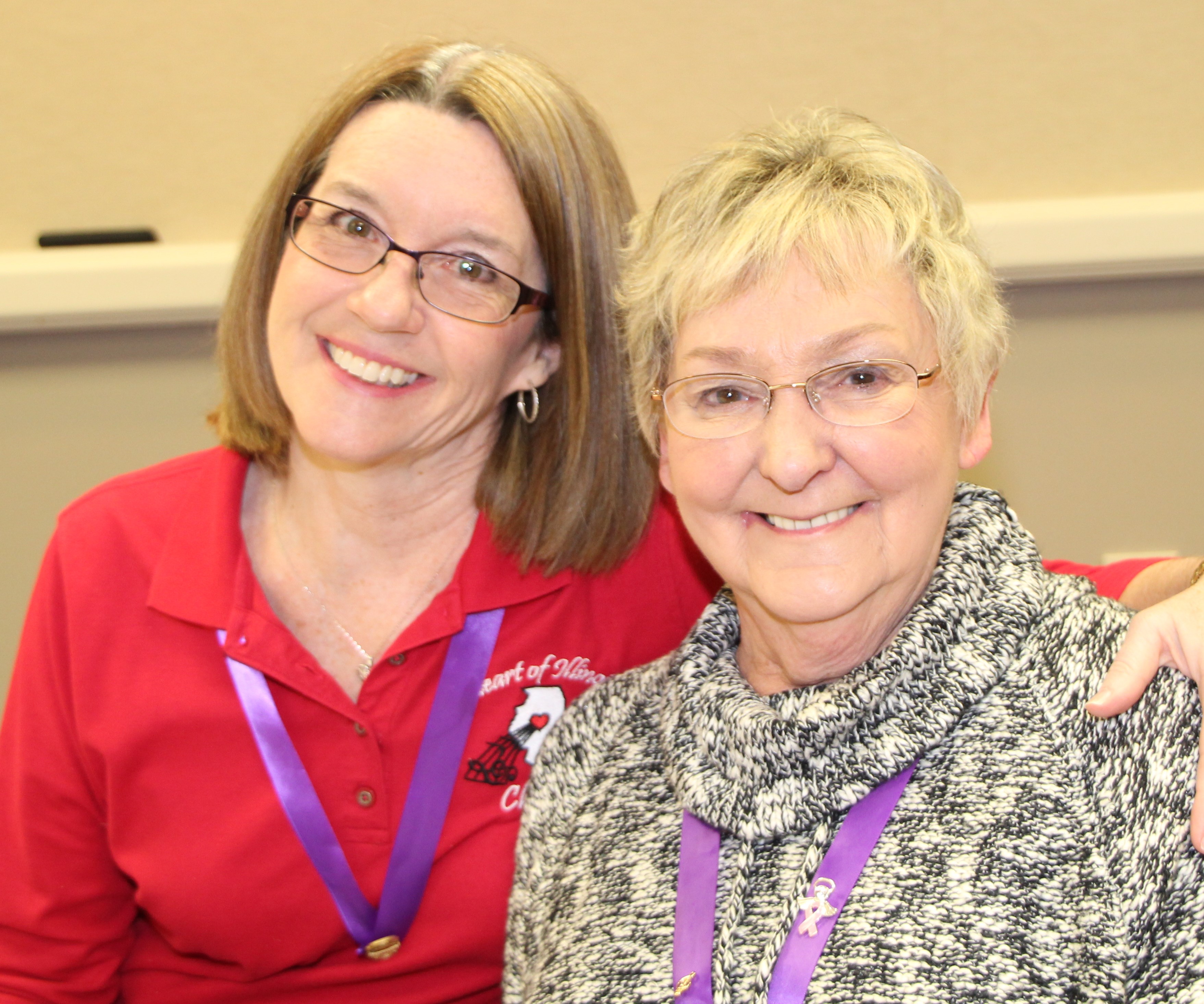 Our Director
Lora Wright, shown here with our Founding Director and Queen of Harmony Helen Peters, comes to us after 26 years in Sweet Adelines from a family deeply rooted in barbershop.  She sings tenor most of the time, but has sung Lead and Baritone in choruses and quartets. Lora was a member of the Heart of Illinois Chorus for many years before leaving the chorus after the region asked her to direct the Quad City Chorus. She was the region's Young Women in Harmony Coordinator for 4 years and served on the Regional Management Team. She's sung in many quartets, competing with Limelight at the International level after winning the Region 5 contest. She has sung with Heart of Illinois, Quad Cities, Metro Mix and St. Louis Harmony Choruses all while living in Galesburg.
Our Assistant Directors
JoEllyn Welch and Vicki Cox provide years of experience as Assistant Directors of the Heart of Illinois Chorus.  Both have sung in the chorus, in several medalist quartets and in other choruses.  We are blessed with two very talented Assistant Directors who are always ready and willing to take a rehearsal or performance in the absence of our Director. They direct songs on shows and performances.  They help with vocal instruction, vocal warm-ups, and share what they've learned about our craft over the years with the chorus.
Music Team
Our Music Team is made up of experienced members from each of the four voice parts.  This team helps select the music we sing.  They record tracks we use to learn our music.  These ladies oversee the success of their voice-part or section.  As section leaders, they provide song feedback to each member individually so we can all have something to work on to make us the best singers we can possibly be.  Miss a rehearsal?  We hate to see that, but you can contact your section leader to make sure you are up to speed before the next rehearsal.
Management Team
Team Manager- Lois Hanley
Financial Manager - Ruth Collins
Internal Communications Manager - Pam Isom
Musical Director - Lora Wright
Membership Manager - Diane Scott
Marketing Manager - Laura Baize
Administrative Manager - Jean Carothers
2021 Show Committee
Committee Members:  Pam Isom, Laura Baize, Lora Wright, Lynn Barteck, Diane Scott, Vivian Gerrietts, Chris Schneider, Gayla Scott, Julie Frank, Melanie Ellison, JoEllyn Welch, Karen Beckler
Recent news
The Hearts are finally back to in-person rehearsals after a crazy year and a half!!! We're SO happy we can... more
October 22, 2020 - 3:58pm
Nan is a biker!! Get to know her!!
October 22, 2020 - 3:57pm
Let me introduce you to Alyssa, a lead in our chorus...